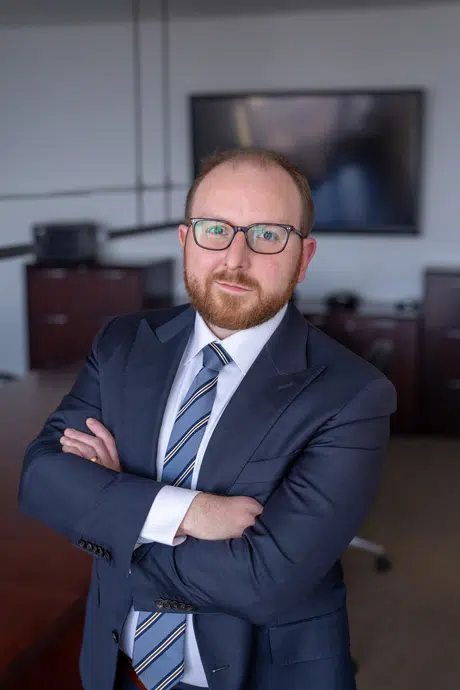 Over $10,000,000 Recovered For My Clients
Serving Clients in the Southern Illinois and St. Louis areas for Years
Awards & Recognitions:
5-star reviews on Avvo
200+ 5-Star Reviews on Google
Member of the Illinois Trial Lawyers Association
National Premier Top Ten Personal Injury Attorneys
Named one of The National Trial Lawyers Top 40 Under 40
Selected for inclusion in Illinois Super Lawyers® Rising StarsSM list 2016-2022
Selected for inclusion in Missouri Super Lawyers® Rising StarsSM list 2021
Named Top Ten Attorney in Personal Injury by the National Academy of Personal Injury Attorneys (NAOPIA)
Given 2015 10 Best Client Satisfaction Award by the American Institute of Family Law Attorneys (AIOFLA)
Named Best Car Accident Lawyers in St. Louis 2020 by Expertise.com
Named Top St Louis Personal Injury Attorneys by Expertise.com
Bio
Brady McAninch is a highly accomplished personal injury attorney who has been practicing law in the St. Louis area since 2011. He is married to Abby Cohen and they reside in the Shaw Neighborhood of St. Louis City.
Brady was born in Alton, Illinois, and has lived throughout the St. Louis metropolitan area most of his life. Brady graduated magna cum laude from Southern Illinois University School of Law where he served as an editor for the law journal and clerked for Judge Catherine D. Perry, Chief Judge for the United States District Court for the Eastern District of Missouri, located in St. Louis.
After law school, Brady immediately went to work as a trial lawyer for some of St. Louis' preeminent civil litigation firms. During that time, Brady litigated numerous cases and was responsible for managing litigation on behalf of a Fortune 100 Company in both Illinois and Missouri. In 2015, Brady and John decided to take the skills they had harnessed working for some of the largest civil litigation firms in the St. Louis metropolitan area and use those skills to represent injured victims and their families.
Brady has earned a reputation as a fierce advocate for his clients, fighting tirelessly to ensure they receive the justice and compensation they deserve. He has represented injured parties and their families in a variety of personal injury cases, including car accidents, slip and falls, medical malpractice, and wrongful death claims. He has recovered millions of dollars in compensation for his clients over the years and has been recognized for his outstanding legal work with numerous awards, including Super Lawyer and Top 40 under 40, and being named a top ten personal injury attorney by the National Academy of Personal Injury.
Brady is also deeply committed to giving back to his community. He works with many charities in the St. Louis area, including the St. Louis Asthma and Allergy Foundation. In fact, Brady is one of the founders of the Flyover Comedy Festival, an annual event that showcases some of the top up-and-coming comedians from across the country.
One of Brady's greatest strengths is his ability to connect with his clients on a personal level. He understands the emotional toll that a serious injury can take on an individual and their family, and he is always there to provide support and guidance throughout the legal process. He is a compassionate and empathetic lawyer who truly cares about his client's well-being.
In addition to his legal practice and charitable work, Brady is an active member of the St. Louis community. He is a member of several legal associations, including the Missouri Association of Trial Attorneys and the American Association for Justice. He is also a frequent speaker at legal events, where he shares his expertise on personal injury law and advocates for the rights of injured parties.
Brady has also argued and prevailed in Courts throughout Illinois and Missouri. Notably, Brady garnered a favorable ruling for his client on an issue of the first impression in Missouri preventing his client's employer from terminating him during his workers' compensation sick leave leading to a multi-million dollar settlement for his client. Brady is also one of the few lawyers who has won a motion for summary judgment in a dispute auto-collision case in Madison County, Illinois, resulting in a settlement of over half a million dollars.
From his deep experience with civil defense strategies and insurance tactics to minimize claims, Brady knows how to get his personal injury clients the best possible settlement for their situation. His time spent in court arguing for those big corporations now gives him special insight into successfully arguing against them on behalf of his clients. As a founding member of Hipskind & McAninch, LLC, Brady focuses his practice on representing individuals involved in business disputes, those injured by the tortious acts of others, including cases such as catastrophic personal injury, wrongful death, and products liability, including pharmaceutical and medical devices.
If you or a loved one has been injured due to someone else's negligence, Brady McAninch is the lawyer you need on your side. With his extensive experience, proven track record of success, and unwavering dedication to his clients and community, he is the advocate you can trust to fight for your rights and help you obtain the compensation you deserve.