Mascoutah Car Accident Lawyer
If you've been involved in a traffic accident caused by someone else's negligence, you're entitled to damages for your injuries, lost wages, and property damage. The personal injury lawyers at Hipskind & McAninch, LLC represent the victims of auto accidents in Mascoutah and the surrounding areas in Southern Illinois on a contingency basis. That means you do not have to pay out of pocket for our professional legal advice. Call today for a free one-on-one consultation.
Types of Motor Vehicle Collisions
Most people think of auto accidents as car vs. car collisions. These are the most common types of motor vehicle accidents, but other types of collisions can be as serious or even more severe. For example, motorcycle accidents frequently result in serious injuries to the rider. Accidents involving semi-trucks frequently result in severe injuries to other parties. Bicycle and pedestrian accidents can also result in devastating injuries.
As a rule, any injury accident involving a vehicle can be categorized as an auto accident. If you've been injured by another driver, call Hipskind & Mascoutah, LLC for a free initial consultation.
Types of Damages in Car Accident Claims
Illinois accident lawyers define three types of accident damages. Economic damages and non-economic damages are known as compensatory damages, while punitive damages are awarded to punish a driver for egregious or willful negligence.
Economic Damages
This refers to all past and future monetary costs arising from the accident. Economic damages include medical bills and anticipated medical costs, lost earnings, property damage to the vehicle and contents, and other economic costs resulting from the car accident.
Non-Economic Damages
This involves the intangible costs of an accident, including physical pain, emotional trauma, loss of physical or mental capacity, and more. In a wrongful death claim, non-economic damages may also include loss of companionship. Personal injury lawyers often refer to non-economic damages as "pain and suffering."
Punitive Damages
In certain instances, the courts will award punitive damages to the plaintiff. For example, if a victim was severely injured in a car accident caused by a drunk driver, the court may also award punitive damages to penalize the defendant further. Punitive damages in Illinois are capped at three times the amount of economic damages.
Proving Personal Injury Cases
For a personal injury attorney to win any case, they must be able to prove that the following four elements apply:
1. Duty of Care
All drivers owe a duty of care to anyone else using the roadway. For example, drivers are expected to obey traffic laws and yield the right of way to other drivers.
2. Breach of Duty
Accidents usually occur because at least one of the drivers breached their duty of care. An example of this would be a driver engaging in distracted driving while looking at a text message. If they run a stop sign because they weren't paying attention, it is a breach of duty.
3. Causation
Accident lawyers must also establish causation. A driver may have breached their duty by operating a vehicle while under the influence, but if they were struck from behind while waiting at a stoplight, they might not have actually caused the accident. By the same token, a drunk driver may swerve into oncoming traffic and cause an accident.
4. Damages
These are the economic and non-economic costs associated with the accident. Victims who have suffered injuries incur some amount of damages, like medical bills, pain and suffering, etc. The extent of the damages determines the amount of compensation that the injured party is entitled to.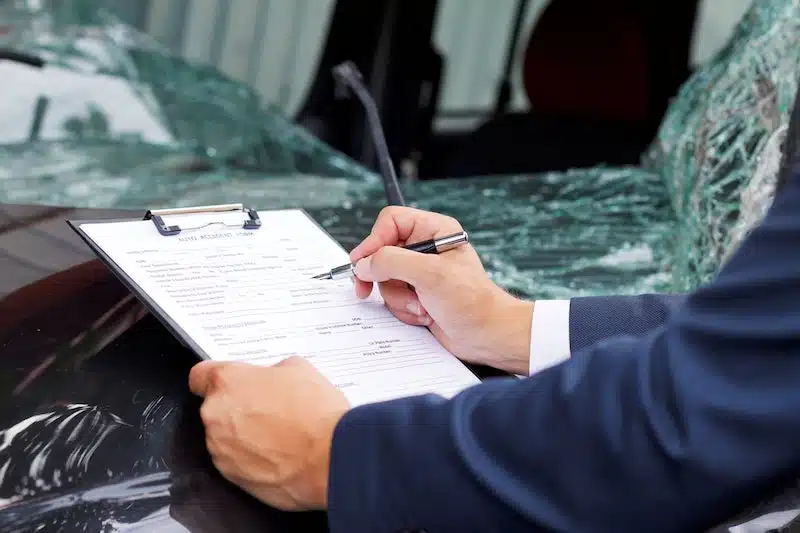 What Should I Do After a Traffic Accident?
Traffic accidents are chaotic, and it's not always clear what you should and shouldn't do in the aftermath of a bad crash. The following steps may help you make a speedier recovery and can assist your attorney in helping you realize full compensation for your injuries.
Move to Safety – Do not exit your vehicle without ensuring it's safe. Watch for traffic when moving about the scene.
Call 911 – The dispatcher will want to know the location of the crash, a description of the vehicles, the number of injured parties, and the nature of the injuries.
Take Photos or a Video – From a safe place, take pictures of the accident scene, the vehicles, road debris, skid marks on the roadway, etc. Back these photos up at your earliest convenience.
Talk to Witnesses – Try to get witnesses to remain on the scene. If they insist on leaving, ask for their contact information. As a last resort, copy their tag information so that your accident lawyers can follow up at a later time.
Allow Rescue Workers to Examine You – The EMTs may be able to identify a condition that you are unaware of. If they suggest you go to the hospital, you should go with them.
Don't Accept a Settlement Before Speaking to a Personal Injury Lawyer – The insurance company will undoubtedly offer to settle with you as soon as possible. However, the amount they offer is usually far less than the compensation you would receive if you were represented by a personal injury attorney.

At Hipskind & McAninch, our car accident lawyers represent clients on a contingency basis. That means we only collect our fees if we win your case through settlement or a court award. If you call now, you can ask one of our professional accident lawyers about your claim free of charge.
Frequently Asked Questions About Car Accident Claims
These are some of the most common questions our accident lawyers hear from clients. Call today to ask questions about your case.
Injured workers who have lost income due to an accident can claim 100% of their lost wages. An attorney can also include anticipated lost earnings.
The statute of limitations in Illinois for most car accidents is two years from the date of the incident. If the victim died due to the collision, it's two years from the date of death.
Personal Injury Attorneys in Mascoutah, IL
If you're the victim of another's negligence, Hipskind & McAninch, LLC can help. Our experienced attorneys are ready for your call. There's no obligation, and all consultations are free.