St. Louis Car Accident Lawyer
When we get into a vehicle, none of us expect to get into an auto accident. The aftermath of an auto accident can be overwhelming and stressful. When the process of dealing with insurance companies begin, the car accident ordeal becomes complex.
Although some people attempt to resolve their case on their own, many will hire a qualified St. Louis car accident lawyer to assist them throughout the process. An experienced St. Louis car accident attorney will assist you with making medical appointments, locating doctors, vehicle repairs, car rental arrangements, and compensation for loss of income.
If you have been injured in a car accident in the vicinity of St. Louis you may be faced with hiring a local St. Louis attorney. The attorneys at Hipskind and McAninich have over 20 years of experience helping car accident victims get the compensation that they deserve. If you wish to discuss the merits of your claim, contact Hipskind and McAninich for your free consultation.
Types of Cases that We Handle
If you have been injured in an accident because of someone else's negligence, you may be entitled to compensation. The personal injury firm of Hipskind and McAninich handles the following cases:
Car Accidents
Truck Accidents
Motorcycle accidents
Pedestrian Accidents
Slip & Fall
Dog Bites
Nursing Home Abuse
Product Defects
Intentional Injuries
If you have been injured in an accident that is not listed above, contact our office to discuss the legal options available to you.
Common Auto Accident Injuries
According to a recent report that used national crash data, the city of St. Louis ranked number two as the second most accident-prone city in the USA. In 2016, 940 people were killed in car crashes in the state of Missouri, 62 of those deaths occurred in St. Louis. If you have experienced one or more of the following common St. Louis car accident injuries, contact Hipskind and McAninich for your free consultation:
Neck and Back Injuries – Neck and back injuries are some of the most common car accident injuries. These injuries occur when the body is hit hard by an object or is exerted/jerked and or overstretched by forces from a collision. This causes the neck and back to sustain an injury. Most people are familiar with whiplash. Whiplash is probably the most common neck injury after a rear-end car accident.
Neck strains, back strains, herniated discs, and fractures are also common auto accident injuries and they can range from mild to severe. Some of these injuries can last a few months or even a few years making it difficult for you to perform normal routines such as work and exercise. Some common treatments include a neck brace, NSAID's for swelling and inflammation, muscle relaxers, cortisone shots, and surgery.
Injuries to the Face – Facial injuries such as cuts, abrasions, and contusions are common injuries after an auto accident. These injuries can occur from the force of the collision that can cause your face to hit the airbag, steering wheel, windshield or loose objects within a vehicle. In some cases, accident victims are left with facial disfigurement and the psychological trauma that accompanies this injury.
Psychological Injuries – Some people will experience depression, anxiety, and even post-traumatic stress disorder after having been involved in an auto accident. Some of these injuries are brought on by the trauma of having been in a car accident itself and some will be secondary to ordeals brought on by the injuries sustained. These types of injuries can be difficult to quantify. That's why it's important that you speak with a St. Louis personal injury attorney as soon as possible if you are experiencing any of the symptoms mentioned.
Injuries to the Brain and Head – Injuries to the brain and head are quite common after an auto-accident. Concussions and skull fractures are common auto accident related injuries that range from mild to life-threatening depending on their severity. In some cases pain medication will be all that's needed to heal however, some more severe injuries (such as a skull fracture),  may require surgical intervention to relieve bleeding or swelling in the brain or require medication to prevent complications such as seizures and blood clots. If you or a loved one has sustained a brain or head injury, contact an experienced St. Louis car accident attorney today to discuss your options.
Spinal Cord Injuries – The brain sends signals to the spinal cord which direct the bodies ability to feel and move. Depending on where the spinal cord is injured and the severity of the injury will determine what body parts will be affected. Common symptoms of spinal cord injury are a loss of feeling or movement and possible paralysis. Spinal cord injuries have a complicated medical trajectory which includes long-term physical therapy and rehab. Medical costs for these injuries can easily cause several hundred thousand dollars in the short term and possibly millions in the long term. If you have sustained a spinal cord injury, you are encouraged to speak with a St. Louis auto accident attorney so that you can plan for your future.
What To Do After An Auto Accident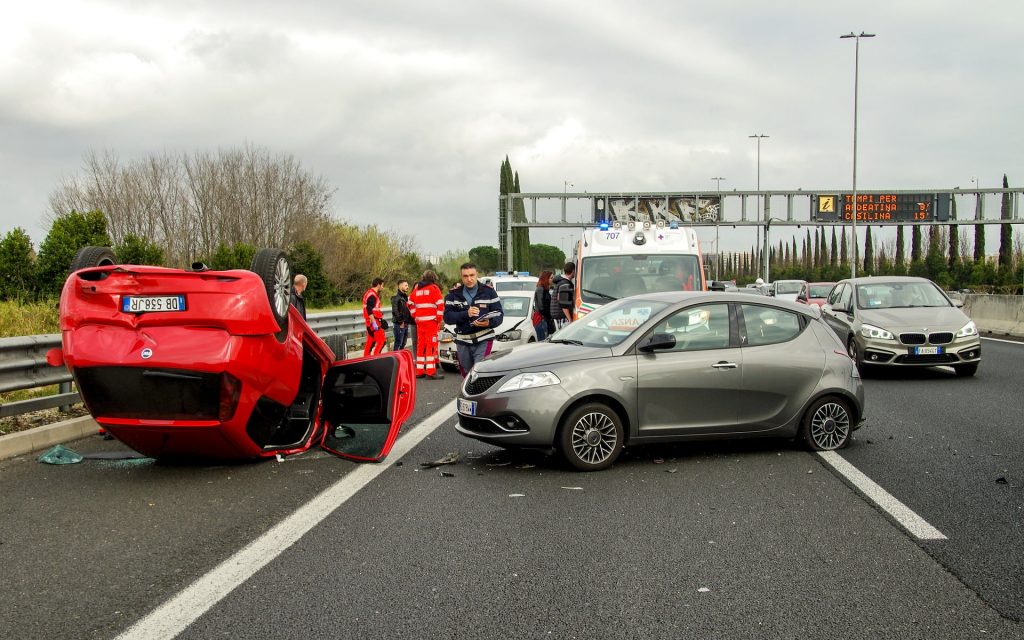 After you have been involved in a car accident, it is important for you to remain calm and check to see if you or any passengers are injured. If you are unsure whether or not you are injured,  call the police and an ambulance and let the paramedics examine you. If your vehicle is in the middle of the road, move your car to a safe area if you can do so. Before moving your vehicle, you are encouraged to take pictures of all vehicles involved in the accident and their exact placement, but only if you can do so safely. When taking the pictures make sure to get all angles and remember that pictures may be the best way of telling the story.
As you wait for the police to arrive, do not discuss fault or any facts, simply wait for the police to arrive. While waiting for the police gather your driver's license, vehicle registration, and auto insurance information. Once the police have taken down all of the accident information and you can leave, seek appropriate medical care to document your accident.
Once you seek medical treatment, call your auto insurance company and begin the claim process. Before speaking with the at-fault driver's insurance company you should consult with a St. Louis auto accident attorney so that you are prepared. Remember that anything you say to the insurance company can be used against you so that they can prevent you from receiving the compensation that you deserve.
Statute of Limitations for Personal Injury
The statute of limitations is the Missouri state law that sets a time limit on when auto accident victims must file their lawsuits. Failure to file your lawsuit within the applicable timeframe will forever bar you from ever doing so. In Missouri, the time frame that will be applied to the lawsuit depends on whether or not the motor vehicle accident caused an injury or a death.
According to the Missouri statutes, anyone injured in an accident must bring forth a lawsuit within five years from the date of the accident. If the accident resulted in someone's death, a family member or a representative who wants to bring forward a wrongful death claim must do so within three years from the date that the injury victim died.
It's important to recognize that some of the states that neighbor St. Louis have very different statutes of limitations. The state of Illinois, for instance, has a statute of limitations of two years from the date of the accident for personal injury lawsuits. While that may still seem like a lot of time, our recommendation is that you don't delay discussing your accident with a qualified Illinois personal injury attorney. Cases often take time to develop and timeliness may affect the outcome.
Shared Fault in St. Louis Car Accidents
Missouri uses the pure comparative fault system which awards money based on the percent of the drivers' fault. Determining fault in a Missouri car accident is not a simple process, and an experienced St. Louis car accident attorney will give you a better chance of proving that you were less at fault than the other driver. The less that you're at fault the more money you can recover from the other driver.
You can recover damages even if you were more than 50% at fault for the accident. In Missouri, even if you were found to be 90 percent at fault for a car accident you can still recover one percent of your damages. An example of this would be that John and Maria were involved in an accident. John has $100,000 in damages and Maria has $40,000 in damages. John was found to be 40 percent at fault for the collision and Maria was found to be 20 percent at fault for the collision. John could recover $60,000 for his damages and Maria could recover $16,000 for her damages.
Personal Injury Claims Against Missouri Government
If you are involved in a car accident with a Missouri state government vehicle, you have the right to sue the state or the county who employ the driver, but there are special rules that must be followed. The process is complex and has specific timelines that must be met or you can be barred from ever pursuing a claim. An experienced St. Louis car accident attorney familiar with the process will ensure that you do not miss any steps.
In Missouri, lawsuits against counties are governed by specific rules. As a result, if you were injured by a county-owned vehicle, you will need to contact the county directly for information on their process of filing a claim so they are formally put on notice.
Missouri accidents that involve government entities and their workers always involve special notices that have to be filed against the appropriate government unit responsible for the injury. The notices need to be filed with risk management, the attorney general's office or a local agency, and the time-periods are limited in all cases. Due to the sensitive time limits (i.e. 30 days – 180 days), it is important that you speak with a St. Louis car accident attorney who can help you determine which time applies to your case.
Frequently Asked Questions About Car Accidents in St. Louis
The following are just a few different questions that we will be able to answer in great detail during our initial consultation about your case. The answers provided below are intended to give you a general idea of the topic but are not intended to be interpreted as advice. In order to get the best answer for your question, your car accident attorney at Hipskind & McAninch will need to do a lot of research before arriving at a final answer. 
How much is my case worth?
No two car accidents are the same, just as no two injuries are the same. The more severe the injury the higher the damages and the higher value that your case will have. Missouri law intends to make the injured party whole after an accident. This means that you will be able to collect the damages necessary to put you back in the position you were before your injuries.
Economic Damages
Examples of economic damages are medical bills, loss of income due to your injuries, and the damage to your vehicle. You can be made whole through different types of damages some of these damages attempt to account for future conditions and the value of physical or emotional injuries.
Non-Economic Damages
Physical and emotional damage are considered non-economic damages and are more difficult to account for. For this reason, it is in your best interest to consult a seasoned St. Louis car accident attorney who can advise you as to which damages you should seek and help you calculate the estimated value of your claim.
How can an attorney help me?
If you have been injured in a car accident in the vicinity of St. Louis you may be faced with hiring a local St. Louis attorney. The attorneys at Hipskind & McAninch have over 20 years of experience handling car accidents in the St. Louis area, communicating with insurance companies, handling the legal system, and negotiating in their client's best interest.
Our attorneys and legal team will assist you with making medical appointments, locating doctors, vehicle repairs, car rentals, and compensation for loss of income so that you can focus on what is most important, your recovery.
How much will hiring a car accident attorney cost?
Auto accident cases at Hipskind & McAninch, are handled on a contingency fee basis, meaning we will not charge upfront to represent you. We will only get paid if you get paid and if we are unsuccessful you will not pay a dime. If you have been injured in an accident, contact Hipskind & McAninch for your free consultation today.
Will I need to go to trial to get compensated for my St. Louis car accident?
There is no way that we can guarantee any specific outcome or course of action, especially so early into the process. However, you can take comfort in knowing that, in some estimates, 95% of all personal injury cases are settled before trial. This does not necessarily mean that they are not filed in court since the process leading up to a trial is long and involved, but other figures suggest that roughly 50% of all injuries are settled before a lawsuit is ever filed. These statistics are no guarantee of your own experience but can provide you with an idea.
Other Practice Areas