St. Louis Truck Accident Lawyer
Unfortunately, a semi-truck accident can happen at any time, leaving you devastated and suffering from catastrophic injuries. You'll need a St. Louis attorney on your side to help you recover the full compensation you deserve.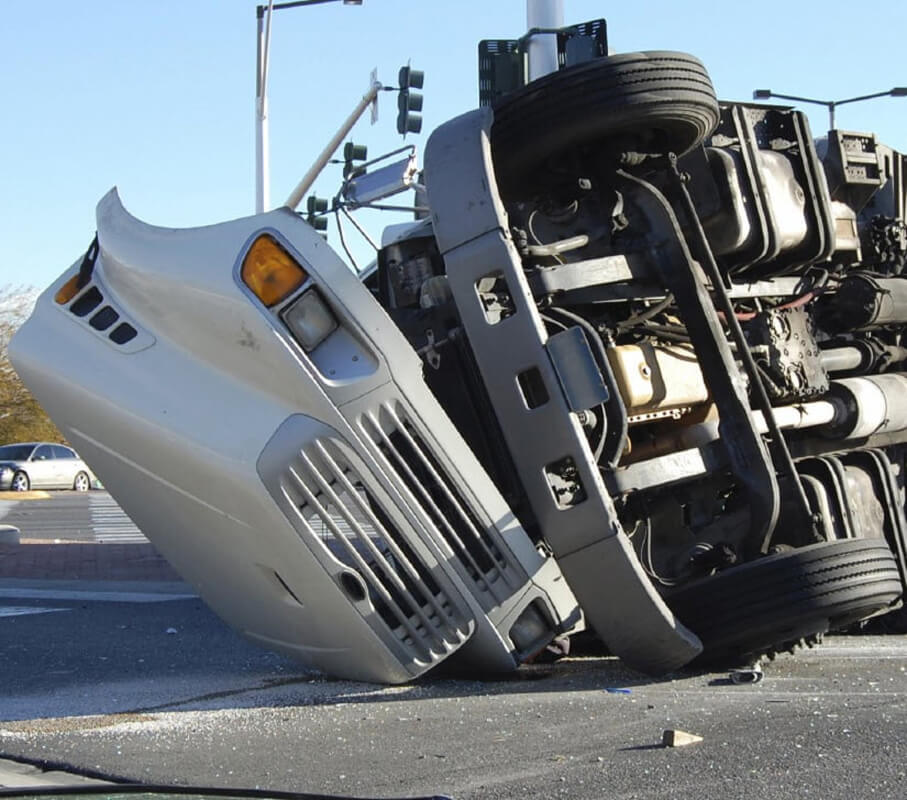 Many of us may feel a little uncomfortable when we see an 18-wheeler on the road. These semi-trucks weigh several times more than the typical car and much more than a motorcycle, of course, and they're not always carrying safe cargo. Often, the substances in the backs of these vehicles are toxic, flammable, extremely heavy, or otherwise hazardous.
All these factors make an 18-wheeler crash even more devastating, which is why you'll need help recovering from one. With a St. Louis truck accident lawyer, you'll have a chance to get the compensation you deserve to rebound from such a tough situation.
At Hipskind & McAninch, LLC, we know how tough it can be to recover, and we'll help you defend your personal injury claim when you're struggling with your physical issues. Reach out for the help you need with your recovery after a St. Louis trucking accident.
Truck Accidents Are Devastating
Sadly, truck crashes tend to be some of the deadliest accidents you might face on the road. These trucks are massive, and if you were on the highway or interstate, they were likely moving at high speeds. Those factors often mean that you're at risk for major injuries.
These injuries are often deadly or life-changing. Your recovery may be more focused on rehabilitating you after your injury than on recovery. Unfortunately, it can be expensive to recover, leaving you dealing with difficult injuries and few chances to rally.  
If you've been in a truck accident, make sure you get immediate medical attention, especially if you may have suffered any of the following:
Spinal injuries

Burn injuries

Bone fractures

Internal bleeding
Who's at Fault?
When you're involved in a truck crash, you'll need to fight back and find the person responsible for your injuries. Missouri is a fault state, as is neighboring Illinois, which means the person at fault for your accident is typically the one responsible for your injuries.
Unfortunately, a semi-truck crash may be more complex. Because the trucker was very likely at work, you might need to look further for the responsible party. Truck drivers are on the job when they're driving, which means they're not necessarily the ones responsible for the financial losses tied to accidents they're involved in.
As long as they're acting within the scope of their job, your damages may be the responsibility of their employer, not the truck driver themselves. Employer liability means that you'll need to seek out their employer, however, which makes your claim more complex.
You'll not only need to prove that the other driver was at fault for your injuries, you'll also need to find their employer and hold them financially responsible for your injuries.
Whatever the situation, your attorney can help you find the person responsible for your accident.
When the Driver Wasn't Responsible
There are additional situations where the other driver might not be the one responsible for the accident. While their semi-truck was involved, someone else might have caused the accident, leaving you seriously injured.
For example, say that while the accident was caused by the truck driver losing control, a parts malfunction may have made it impossible for them to right the vehicle. For example, if their brakes malfunctioned, they may not have been able to get their vehicle back on track. In that case, your accident may be the responsibility of the manufacturer, not the driver.
Otherwise, the fault of the accident may have simply been on another driver. For example, someone else was driving recklessly, and in trying to avoid an accident with them, the truck driver hit you. You may need help from your St. Louis lawyer to investigate your accident and get the information you need.  
State Laws Will Affect Your Case
Unfortunately, just proving that the other person was at fault won't get you the compensation you need. Instead, you'll need to protect your claim to ensure you get your full recovery. Missouri and Illinois negligence laws can hurt your claim, leaving you without the full compensation you need.
Basically, if the defense claims you were partly at fault for the semi-truck crash, you could lose part or all your compensation.
For example, they may claim you were driving in the truck driver's blind spot, putting yourself in danger as well as the driver. They may claim you were 25 percent at fault for the accident, and if they succeed, you'd only receive 75 percent of your compensation. You'll need your full compensation to recover from your accident, so get the help you need protecting your claim.
St. Louis Truck Accident FAQ
When you're injured in a truck crash, it's not easy to recover. You have questions unique to your claim, and you need answers as soon as possible. Unfortunately, you're struggling to get the answers you need from other FAQs.
We understand how difficult it can be to find the answers you need, so we have featured a few of our most commonly asked questions here. If you don't see the answers you need, however, you still have a chance to get answers. Reach out to us, and we'll help you get the answers you need.  
How long do I have to file my accident claim?
Most truck crash claims must be filed within five years in Missouri, but in Illinois you'll only have two years. If you don't file your accident claim within this time frame, you may be barred from recovery, leaving you without compensation. However, if you're filing a claim against the government, you might need to file even sooner.
Your St. Louis–area truck accident lawyer can let you know what the time limits are for your specific claim.
My child was injured in a truck accident. Can I sue on their behalf?
While your child deserves the same civil rights as any injured person, they're still a minor by law. When this happens, however, you may be eligible to file a claim on their behalf. If not, they'll have a chance to file their claim once they reach the age of majority and are able to sue.
Should I talk to my insurance company?
While you'll need to report the accident to them, we recommend saying only what's necessary to the insurance company. They will likely record your conversations, meaning that your words could be used against you. Instead, speak to your attorney, who will help you protect your claim after a truck crash.
Seek Out a St. Louis Truck Wreck Lawyer
If you've been involved in an 18-wheeler accident, you know firsthand how devastating it can be to recover from one. It's a painful, overwhelming experience, and you could be suffering for years after the accident.
Without the right help, you might be left with that debt and pain permanently. Fortunately, that's where a lawyer from Hipskind & McAninch, LLC can step in. Our attorneys can help you fight back for your full compensation when you're struggling to recover.
If you have questions, or if you're considering our firm, reach out and get a free consultation with our attorneys. We'll discuss your claim so you know what to expect and what we'll bring to your claim. We'll make sure you know what we can do before you sign.
Ready to get started? Reach out to a St. Louis truck accident lawyer. We can be found by calling 618-641-9189 or by completing the online form below.  
Related Articles
Other Practice Areas