St. Louis Workers' Compensation Attorney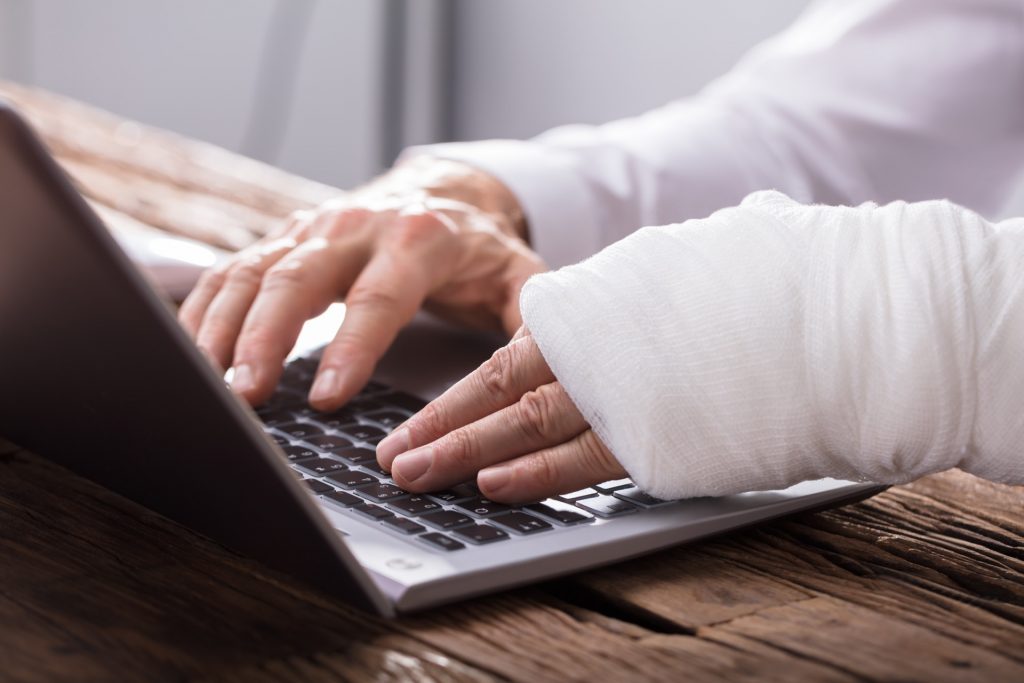 Workplace accidents can happen on almost every job. If you've been injured on the job, you could be facing extensive medical bills, lost earnings, and need time to properly rehabilitate your injuries or to learn a new job skill.
The Missouri Department of Labor reports there were 7,365 workers' compensation injuries filed in December 2021. If you have been hurt at work and are trying to figure out how to file a compensation claim, an experienced Missouri workers' compensation attorney can help you navigate the process.
The workers' compensation lawyers at Hipskind & McAninch, LLC. are available to help you with your workers' compensation claim now. We'll fight to recover the compensation you are rightfully owed after your workplace incident.
Contact us now for a free initial consultation about your situation to learn more about how we can help you, as well as to get legal advice about your immediate situation. We can also guide you on what steps injured workers can take to increase their chances of workers' comp benefits.
St. Louis, MO Workers' Compensation
Workers' compensation is a set of laws designed to compensate workers if they are injured on the job. Missouri laws don't consider fault in workers' comp cases, so if you've been injured while on the job in St. Louis County, then workers' compensation lawyers can assist you in receiving compensation even if your injuries were your fault.
Worker's compensation laws help injured workers to recover a portion of their losses when they have to miss work due to work-related injuries. Sometimes getting the necessary workers' comp claim support you need means pursuing damages from third parties, like manufacturers that may have contributed to your personal injury. Our personal injury law firm can thoroughly examine all of the details of your case to ensure you get justice.
St. Louis Workers' Compensation Laws
Workers' compensation laws are governed by the state in which your personal injury occurred. Each state has its own workers' comp program designed to compensate individuals for injuries suffered while working on the job.
According to Missouri ordinances, any employer with five or more employees must fulfill its workers' compensation obligations. For intensive labor workers like those in construction, employers with one or more employees must have workers' compensation benefits. Missouri workers' compensation laws do not cover the following employees because they're covered under federal law:
Railroad workers
Postal workers
Maritime workers
According to the Missouri Department of Labor, workers' compensation will cover you if your work-related accident was the prevailing factor that caused your injuries, medical condition, or disability.
If your injuries didn't arise because of your employment, then you won't qualify for workers' compensation. Speak with a Missouri law and personal injury professional about receiving full and fair compensation for your workers' compensation claims.
The Missouri Industrial Commission oversees the workers' compensation program, and judges throughout the state help to resolve disputes between employees and employers in claims involving workplace injuries and illnesses.
Missouri Workers Compensation Statute of Limitations
You have two years from the date of your workplace accident to file a workers' compensation claim in Missouri. It is best to file as soon as possible because waiting can result in unforeseen complications. Speak with a proficient workers' comp lawyer today for a free consultation.
Steps In The Missouri Workers' Compensation Process
If you've been injured on the job in Missouri, and want to take advantage of the workers' compensation laws afforded to you, experienced MO personal injury law offices suggest you follow these steps:
Report your injury to your employer within 30 days.
Seek medical attention with the doctor outlined in your company's policy. You have the right to see your doctor, but you must do so at your own expense.
File a formal worker's compensation claim within two years of your injury or illness.
Examine your case with an experienced workers' compensation attorney.
Go to pre-hearing proceedings to update the status of your claim's investigation and the process of your treatment.
Speak with a judge and possibly settle your claim in mediation.
Have a formal hearing so the parties involved can present evidence to support their claim.
Appeal a ruling with the Missouri Labor and Industrial Commission
Appealing a Workers' Compensation Decision
If you or your employer disagree with the judge's decision, then either may apply for a review within 20 days of the date of the award from the judge. The appeal must be filed with the Labor and Industrial Relation Commission.
The Commission will review the decision and either agree or disagree with the judge's decision. If the parties involved disagree with the Commission, second and third appeals are also possible.
The worker's compensation claims process can be extremely confusing when you don't have experience. Our adept workers' compensation attorneys can help you successfully navigate the process and obtain the rightful compensation you deserve.
Settling a Missouri Workers' Compensation Lawsuit
How long it takes to settle your Missouri workers' compensation policy after an injury or illness depends on a range of factors. If you are experiencing complicated injuries or facing permanent disability, it can take even longer to reach an agreement about the money you are owed due to the complexity of your condition.
Injured workers are often blindsided by unresponsive insurance companies. Unrepresented workers generally receive substantially less from insurance companies than those who are represented by a Missouri workers' compensation law professional.
Missouri laws require judges to examine the entirety of your damages, such as medical bills and lost wages before they reach a clear understanding of the economic damages you have suffered and a settlement amount that is considered fair compensation. Contact our law office as soon as possible so we can get to work on your case.
St. Louis workers' compensation attorneys will work with you on a settlement or verdict as soon as they receive the results of your physical exam. If they find that the injury was not your fault, they will advise you of your rights under the law and on how to proceed.
Common Injuries in Workers' Compensation Cases
Workplace injuries happen all the time, and every workplace presents some risks. Many workplace incidents are minor but others are life-threatening. Some of the most common types of serious injuries sustained in workplace accidents include:
Broken bones
Burn injuries
Brain injuries
Cuts, scrapes, and lacerations
Spinal cord injuries
Neck and back injuries
Electrocution
Inhalation of toxic substances
Death
Serious injuries prohibit workers from completing their jobs. Workplace accident-related permanent disabilities will lead to lost income, insurance complications, and medical costs. Speak with a workers' compensation attorney today about all the benefits available to you in a workers' compensation claim.
Workers' Compensation Benefits
Workers' compensation insurance offers a variety of benefits to Missouri workers injured on the job such as:
Payment of your medical expenses including your medical bills, emergency care, surgery, and ongoing rehabilitative therapy.
Weekly tax-free paychecks that equal two-thirds of your regular pay, when your injury results in time away from work.
Lump-sum payments, based on the degree of your disability and doctors' evaluations.
Permanent total disability payment, temporary total disability benefits, or permanent partial disability if your injury has caused a disability that prevents you from returning to your job. You could receive tax-free disability payments for the remainder of your life.
Death benefits for those who lost a loved one due to a workplace accident. These benefits can include ongoing paychecks and the payment of funeral and burial expenses.
Workers' compensation covers up to two-thirds of your weekly wages for lost time benefits due to your work injury. They also cover all related medical expenses until you have reached maximum medical improvement. Travel to and from the doctor and rehabilitation appointments are also covered by workers' compensation. Speak with an employment attorney at the law offices of Hipskind & McAninch, LLC, to pursue compensation.
Calculating Damages After a St. Louis, MO Workplace Injury
Once an attorney has evaluated your physical condition, the two of you will discuss how much money you can receive for the lost wages, medical expenses, pain and suffering, lost earning capacity, and other losses that you are entitled to.
Common Mistakes in Workers' Compensation Cases
If you choose to navigate the workers' compensation process on your own, you risk making errors. These costly mistakes may jeopardize your ability to obtain the damages you're entitled to by law.
Some of the most common workers' compensation mistakes include:
Misrepresenting your injury
Making erroneous admission and other mistakes on your incident report
Not seeking medical treatment immediately or soon after your injury
Missing crucial deadlines
Maximizing your workers' compensation benefits is all about understanding the laws governing your situation. Handling your claim without the right amount of experience is a risk. Speak with one of our workers' compensation professionals today to schedule your free consultation.
Filing For Workers' Compensation in St. Louis
Filing a workers' compensation claim can be complicated. This is especially true when you've experienced work-related injuries because of the negligence of others. Those injured while on the job have rights, and your experienced St. Louis workers' compensation lawyer can help you get started on your claim today.
You have 30 days to notify your employer after your injury. Once you've notified them, the complex claims procedure begins, and this may prove difficult if you're trying to manage it by yourself. By choosing our workers' comp lawyers, we help you during every step of this complicated process. Our services include:
Explaining the breadth of your legal benefits
Filing your benefits package, error-free, before the deadline
Pursuing maximum compensation for your lost income
Seeking benefits for all of the permanent disabilities associated with the work accident
Appealing denied claims on your behalf
Assisting you in completing the entire claims process
​​Should I hire a Missouri workers' compensation lawyer?
There is no requirement for you to hire an attorney but the sooner you work with a skillful lawyer, the more time you will be able to focus on your recovery. The applications process and administrative work of filing a claim can be tedious, but our attorneys can handle this work for you.
Contact Hipskind & McAninch, LLC About Your Workplace Injury
The workers' compensation attorneys at Hipskind & McAninch, LLC will help you understand your situation, and give you an understanding of how we can help you move towards the compensation you deserve.
We understand that it can be overwhelming to understand how to proceed after suffering a serious injury and that nobody wants to be doing administrative work as they are trying to focus on recovery. We are here to help.
If you need a professional personal injury law firm in St. Louis county, contact Hipskind & McAninch, LLC. Our attorneys have experience across all areas of tort law, including truck accidents, medical malpractice, and car accidents. We provide legal representation that can solve disputes with an insurance company or medical providers. Most importantly our workers' compensation lawyers can get started on your injured worker claim immediately.