St. Louis Workers' Compensation Attorney
If you have been the victim of an on-the-job injury, then you have to go through the St. Louis workers' compensation process. You should have the support of competent attorneys who can help you to ensure you get the compensation — and the higher compensation — that you deserve. Workers' compensation claims seem fairly straightforward at first glance, but as you get further into the process, you will quickly recognize that there are more intricacies to this claim than you first realized. At that point, many people realize they should have hired a lawyer a long time ago, meaning they could have avoided the stress of each step they took on their own. Don't make the same mistake.
The team at Hipskind & McAninch, LLC. is available to help you with your workers' compensation claim as soon as possible and to fight to ensure that you get the money you are rightfully owed following your accident. Contact us now for a free initial consultation about your situation to learn more about how we can help you, as well as to get advice about your immediate situation and what steps to take in the coming days and weeks. We understand that it can be overwhelming to think about the future after a personal injury at your St. Louis, MO workplace, which is why our free consultation is a valuable tool to get a clearer understanding of your situation.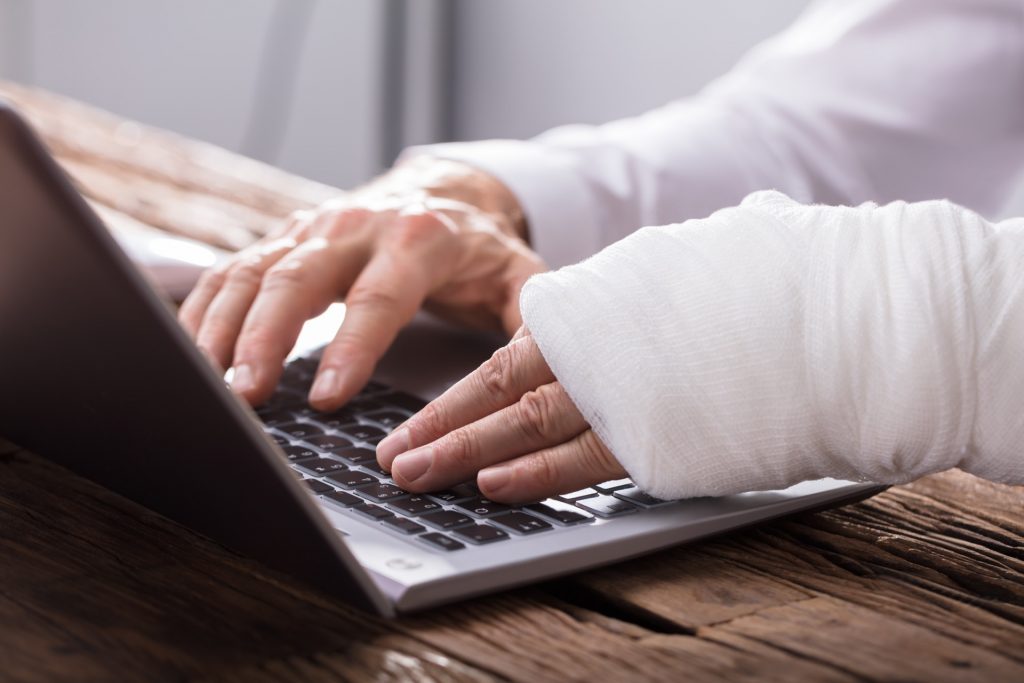 Contact Hipskind & McAninch, LLC Now For a Free Initial Consultation About Your Workplace Injury
If you do not know how to proceed with your workers' compensation case, you should contact an experienced lawyer who has worked with cases like these many times before. The workers' compensation attorneys at Hipskind & McAninch, LLC will help you understand your situation, as well as give you an understanding of how we can help you move forward towards the compensation you deserve. We understand that it can be overwhelming to understand how to proceed after suffering a serious injury and that nobody wants to be doing administrative work as they are trying to focus on recovery. We are here to help.
Read more below to get an idea of the workers' compensation process in St. Louis, and contact us as soon as possible to partner with an experienced attorney through the duration of this process. You deserve to be represented by someone who is experienced in these processes and is diligently working to get you the money you need to move forward from this accident without taking on additional financial burdens.
Working With a Workers' Comp Attorney To Get the Money You Deserve
Missouri workers' comp is a "no-fault" insurance policy, meaning that the insurance company will not need to determine the matter of who caused the accident before moving forward with calculating compensation amounts for the victim. This is an important detail because this means that you can cause your own injury at work and not be left trying to fend for yourself against your medical bills and all of the other financial impacts of an injury. The other side of this "no-fault" policy is that your employer is legally protected from personal injury lawsuits under a work comp policy, so even if their negligence or recklessness led to your accident, you will not be able to file a lawsuit against them.
Understanding Missouri Law About Workplace Torts
However, this does not mean that all workplace injuries in Missouri are blocked from lawsuits – if an entity or event that is not covered under your employer's work comp policy is responsible for your injury (such as a manufacturer of a defective tool or if your employer intentionally injured you). Once you are in contact with our team, we will be able to walk through the details of your accident and give you a better understanding of what the laws allow you to do and limit you from doing. 
Guiding You Through the Claims Process
Once we have a clear understanding of your injuries and your options to move forward with seeking compensation, we will file a claim with your Missouri workers' compensation policy to initiate the process. During this time, it is important that you focus on recovering from your injuries without taking on the stress of your claim, which is why we will handle the administrative work while you focus on getting care and rest. Stress is shown to have a serious impact on physical recovery times, so the less stressed you are, the better your health outcomes may be. 
Depending on the specifics of your situation, we may also begin working on a lawsuit intended to recover the entire range of damages that you have suffered, including non-economic damages like pain and anguish, and a decrease in your quality of life. As mentioned before, though, this is typically not the case – if you were injured at work and someone covered under your workers' comp policy is responsible for it (including yourself), then you will not be able to file a lawsuit to recover additional damages. Regardless, we will work with the insurance company to make sure that no details are missed, and that you are fully compensated for what you are entitled to under your policy in accordance with your injuries and economic damages. 
Understanding a Workplace Injury
When you are trying to recover while also work on this claim, having a legal professional by your side is essential. Not only will the expertise of an attorney prove invaluable in helping you navigate the St. Louis workers' compensation claims procedure, but it will also give you peace of mind. You will know that you are working on behalf of a well-meaning, sympathetic worker compensation attorney who is doing everything he or she can to ensure that you get the compensation you deserve, no matter what the circumstances.
Hiring a Workers' Compensation Lawyer is Key
If you are injured at work in St. Louis, then you are likely aware of how complicated the legal process can be. Only an accident attorney can handle the intricacies of workers' compensation claims, and you owe it to yourself to turn to someone with experience in handling cases like yours. In order to determine whether you are eligible to file a claim, an attorney will interview you, take photos, and speak to your doctor. If the injury has caused a serious physical impairment or disability, then the attorney will need to meet with your employer or company to explain your problems.
Calculating Damages After a St. Louis, MO Workplace Injury
Once an attorney has completed your physical examination, you and your attorney will discuss how much money you can receive for the lost wages, medical expenses, pain and suffering, lost earning capacity, and other benefits that you might not have previously been aware that you are entitled to. These are the basic damages that your compensation claim will seek to pay for.  
Negotiating a Settlement
Your St. Louis workers compensation lawyer will work with you on a settlement or verdict as soon as they receive the results of your physical exam and examinations. If they find that the injury was not your fault, they will advise you of your rights under the law and advise you on how to proceed.
Frequently Asked Questions About St. Louis, MO Workers' Comp Claims
The following are just some of the questions that your workers' compensation lawyer will be happy to answer for you about your St. Louis workers' compensation claim. Keep in mind that these answers are meant to give you a general sense of how your answers may be about your personal injury, but should not be taken as legal advice. The only way to get a specific answer to your questions is by contacting our St. Louis law firm and speaking directly with our workers' compensation lawyers today. 
When should I hire a Missouri workers' compensation lawyer?
The sooner you are partnered with one of the workers' compensation attorneys at Hipskind & McAninch, LLC., the sooner we will be able to start making sense of your personal injury and your options for a workers' comp settlement. While there is no requirement for you to hire an attorney at all, the sooner you are working with a lawyer the more time you will have to focus on your recovery without having to take on the additional stress of your application process or the administrative work that comes with it. 
We offer a free consultation to injured workers so that we can explain the intricacies and details of injury law in St. Louis, and the sooner you take advantage of this consultation, the sooner we can begin to work together on your workers' compensation claim to get you the money you need after being injured at work.
How long does it take to settle a Missouri workers compensation lawsuit?
The specifics of how long it will take for your Missouri workers' compensation policy to pay out after an injury or illness depends on a range of factors, particularly depending on whether or not you and the St. Louis workers' compensation lawyers representing your case have decided to accept the offer. If you are experiencing complicated injuries or facing permanent disability, it may take a while to reach an agreement about the money you are owed after your injury.
Missouri requires that after a work-related personal injury, workers' compensation must examine the entirety of your damages, such as medical bills and lost wages, to reach a clear understanding of the economic damages you have suffered, and a settlement amount that amounts to fair compensation. Contact our law office as soon as possible so we can get to work on your case as soon as possible. 
Do you need a lawyer to get a workers compensation settlement in St. Louis?
While Missouri workers' compensation laws do not require that injured workers partner with a lawyer; St. Louis law firm Hipskind & McAninch, LLC is here to help you. Our law firm has the experience needed to take on the insurance company to get what you are truly entitled to after your injury or illness, or even permanent disability from your injury. Missouri workers' compensation is meant to be a simple insurance system for injured workers to collect damages for their medical bills, lost wages, or even total disability through a no-fault policy. However, as the cases our law office has represented in the past indicate, it is rarely as simple as intended. 
Workers' comp can get complicated quickly after a personal injury, and while you have no legal obligation to hire an attorney, we will be happy to talk with you during a free consultation about the benefits you will get from working with our law office throughout this process. Instead of worrying about the red tape from the Missouri insurance companies, you can focus on recovering from your injury without the added stress.
How much will I get for my workers' compensation settlement?
Determining how much you will actually get after a Missouri workplace injury requires a close look at your situation and ongoing work, including things like the cost of your medical care, the impact on your earnings, and whether or not you will need to seek total disability payment. Workplace accidents vary on a case by case basis, and the workers' compensation lawyers at Hipskind & McAninch, LLC will help you make sense of what you deserve under the Missouri workers' compensation laws following your own unique work injury.
Workers' compensation in Missouri is meant to compensate for economic damages after your work injury, which differs greatly from a personal injury lawsuit that leaves the liable party open to being sued for non-economic damages, as well. In certain instances, your work injury may allow you to file a lawsuit against someone other than your employer, since the work comp policy works in two directions: you are protected against financial damages after a Missouri work injury with no questions asked, and your employer is protected against liability.
Other Practice Areas